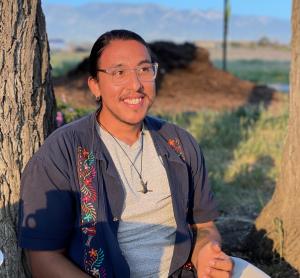 Specialization
:
ancestral memory, storytelling, decolonial pedagogies, art praxis, healing justice, spiritual ecologies, de/re-indigenization, and transnational decolonial movements
Bio
:
John Jairo Valencia (they/he) is a queer xicanx/colombian interdisciplinary artist, scholar, and cultural worker, raised in La Puente (Awingna) and Boyle Heights (Apachiangna), CA. They hold a BA in Native American Studies with minors in Art Practice and Chicanx/Latinx Studies from UC Berkeley and are currently working on a Ph.D. through UC Santa Barbara's Department of Chicana and Chicano Studies.
They have worked as a community cultural worker for over 10 years, facilitating workshops, youth programs, and creative projects, through various grassroot efforts. They currently work through UC Santa Barbara's Las Maestras Center for Xicana[x] Indigenous, Thought, Art and Social Praxis and the community herbal education project, Hood Herbalism. As a visual artist, they have partnered with The Cultural Conservancy, The Native American Food Sovereignty Alliance, InnerCity Struggle, The California Institute for Rural Studies, UC Berkeley's Multicultural Community Center, and other organizations to create illustrations for social justice campaigns, Indigenous foodway programs, and many other projects. In 2020, their visual art and poetry were featured on the cover of the first issue of Ofrenda Magazine, a publication exploring Xicanx/Latinx spirituality, earth consciousness, and healing arts. They have also supported the curation and installation design of various art exhibits at cultural centers throughout the Bay Area and Southern California. Most recently, in 2022, they worked closely with Maestra Celia Herrera Rodríguez on her solo show, Teo(tl)ría Xicana, at Centro Cultural de la Raza.
Through their prospective scholarship, John Jairo will interweave their personal and community creative practice with an exploration of ancestral memory, non-western epistemologies, and liberation philosophies. They seek to learn from and uncover pedagogical lessons through the intellectual and spiritual genealogy of elder and ancestor Xicana feminist, Indigenous and decolonial thinkers, creators, and culture makers.
Courses
:
Graduate Teaching Assistant, Chicana/o Studies 1B: Gender
Winter 2023, Chicana/o Studies, University of California, Santa Barbara
Graduate Teaching Assistant, Chicana/o Studies 1C: Culture
Fall 2022, Chicana/o Studies, University of California, Santa Barbara
Graduate Teaching Assistant, Chicana/o Studies 1B: Gender
Spring 2022, Chicana/o Studies, University of California, Santa Barbara
Undergraduate Teaching Assistant, Chicana/o Studies 180: Spirituality as Resistance
Fall 2015, Chicanx/Latinx Studies, University of California, Berkeley