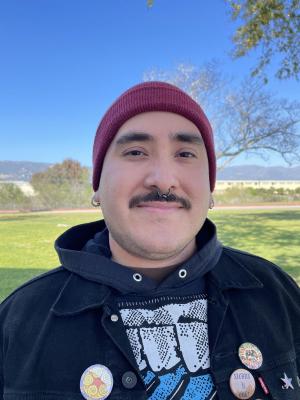 Specialization
:
Xican@ philosophy, culture, & social organization; decolonial thought, theory, & politics; archaeology/genealogy, existential phenomenology, & radical bio-semiotics; cultural studies & affect theory; Xicana feminisms & queer Xicanx spirit-praxis; liberation philosophies (Sandovalian, Anzaldúan, & Wynterian)
Education
:
| | |
| --- | --- |
| Associate of Arts, Liberal Studies | Los Angeles Southwest College |
| Bachelor of Arts, Chicana and Chicano Studies (Highest Honors) & American Indian Studies | University of California, Los Angeles |
| Master of Arts, Chicana and Chicano Studies | University of California, Santa Barbara |
| Ph. D. (in progress), Chicana and Chicano Studies | University of California, Santa Barbara |
Bio
:
Kristian E. Vasquez is a Ph.D. student in the Department of Chicana and Chicano Studies at UC Santa Barbara. He completed his B.A. in Chicana and Chicano Studies and American Indian Studies at UC Los Angeles in 2019 as a transfer student from Los Angeles Southwest College (2014-16) and later received his M.A. in Chicana and Chicano Studies at UC Santa Barbara in 2021. His academic and intellectual work attends to the materialism, metaphysics, and performance of La Xicanada in California, specific to the post-Indigenous resurgence movements of the 1990s to unearth the decolonial horizon of Xicanx activity against what he terms "the coloniality of the wor(l)d." This project is tentatively entitled The Decolonial Spirit of Xicanacimiento: Aesthetics, Conocimiento, and Reality and maps its focus on the historical disjuncture of Mexican entanglements with U.S. settler colonialism, an autohistoria-teoría of Xicanx consciousness, and a textual/performance analysis of the music of punk band Subsistencia and hip-hop groups Aztlán Underground and Kozmic Force; the visual art of artist collectives Kalli Arte and Dignidad Rebelde and artist Gilda Posada; and the poetics of the writers Cherríe Moraga and Luis J. Rodríguez. He grounds this project in the geography and cartohistografía of California. Kristian works at the crossroads of decolonial theory, cultural studies, and liberation philosophies to understand affect, being/becoming, and consciousness in the narration of new realities.
With his humanities collaborator Natalia M. Toscano (University of New Mexico's Department of Chicana and Chicano Studies), they are researching and theorizing a book-length project on Chicana/Xicana feminisms that connects with the thought, political philosophy, and anti-capitalist autonomous organization of Zapatismo. Kristian's other collaborative academic projects include a co-written critical essay on the Xicanx humanism and indigeneity of Luis J. Rodríguez with Natalia M. Toscano that is part of In the Long Run: Luis J. Rodriguez's Life and Literary Legacy edited by Josephine Metcalf & Ben V. Olguín. Kristian's forthcoming non-fiction book with FlowerSong Press is called Xicanx Nomadic Register: Fragments, Musings, and Essays, and he is working on his next non-fiction manuscript called Moral Failure: A Crossroads of Desire, an avant-garde memoir-in-essays that chronicles a becoming anarcho-punk, zinester, urban Zapatista, and student of decoloniality.
Research
:
University of California, Santa Barbara
MA Doctoral-track Research 2019-2021
Advisor: Dr. Chela Sandoval
University of California, Los Angeles
Chican@ Studies Departmental Honors Program - 2019
Advisor: Dr. Reynaldo Flores Macías
Ronald E. McNair Research Scholars Program - 2017-2018
Advisor: Dr. Reynaldo Flores Macías 
Projects
:
Co-founder and member of the "Eagle and the Condor Liberation Front" (ECLF), an autonomous organization that operates from Tongva territories (Los Angeles, California). ECLF is an anti-authoritarian, horizontal-based collective of urbanized Indigenous community-members, many of whom are also students. As adherents to the "Sixth Declaration of the Lacandón Jungle," ECLF also makes part of La Red Sexta Grietas del Norte, a US-based anti-capitalist network that accompanies the Zapatistas, the Congreso Nacional Indígena, and the Concejo Indígena de Gobierno while also weaving autonomy in our own geographies.
Member of the Chicanx World-Making and Futurities Project that manages the mixed-media platform Xicana Tiahui where he co-hosts a podcast and writes for their blogosphere.
Member of the Zapatismo Reading Collective 805 that studies the history, politics, and struggles of Zapatismo in México and beyond. 
Publications
:
"'The Damnés of the Americas' [Review of Existence of the Mixed Race Damnés: Decolonialism, Class, Gender, Race by Daphne V. Taylor-García]," Radical Philosophy Review, 23, no. 1 (Winter 2020) 
"Review of How "Indians" Think: Colonial Indigenous Intellectuals and the Question of Critical Race Theory by Gonzalo Lamana," American Indian Culture and Research Journal 43, no. 3. (Winter 2020)
"Reflections on Chican@ Studies: Notes on Xican@ Knowledge and Intellectual Histories in Higher Education," in In Search of Our Brown Selves: A Chicano Studies College Reader – eBook edited by Silvia Toscano (Dubuque: Kendall Hunt Publishing Co., forthcoming).