On January 25, 2016 Professor Dolores Inés Casillas was featured on a panel for the National Public Radio (NPR) show, On Point Live: Lessons For The Country In California's Latino Plurality.
The show discussed how the national political, economic, and cultural futures will be impacted by growing Latino populations.
From the NPR website:
New numbers out: 27 million Latinos will be eligible to vote this November. Up a whopping 17 percent since 2012. The catch? Latino voting rates are low and dropping. What's the net effect of a surging Latino population on politics, economics, culture? We're asking California.  he biggest state in the Union now has a Latino plurality. Almost 40 percent. This hour On Point in Santa Barbara, California, Latinos, and the American future.
Link: https://onpoint.wbur.org/2016/01/25/on-point-live-california-latino
Professor  Dolores Inés Casillas is an Associate Professor in the Chicana and Chicano Studies Department at the University of California, Santa Barbara and is the author of "Sounds of Belonging." You can follow her on Twitter @DInesCasillas.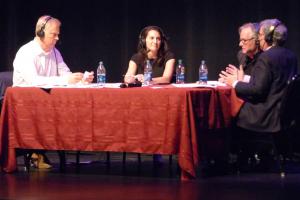 January 26, 2016 - 10:33am